Product Portfolio Carrera Tank 356
Porsche Restoration Panels is dedicated on getting you the best sheetmetal parts for your Vintage Porsche 356 at the best price.
In order to achieve this, Porsche Restoration Panels is producing a lott of sheet metal parts themselves and our latest addition is the Porsche 356 Carrera Tank.
For the production of the Carrera Tank we managed to get our hand on an original Carrera tank.
So, upgrade your 356 with a period correct factory option and enjoy those extra miles before filling her up again!
The tank has a capacity of about 75 liters and is pressure tested.
It is an easy bold on tank as original with no modification to your car. It is a nice job you can do yourself in an hour or every local garage can do it for you.
At this moment no one is offering the Carrera Tank. The tanks are hand and custom made and can be ordered directly.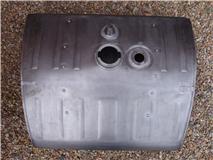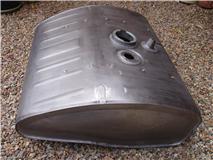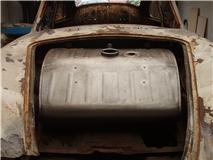 The range of sheet metal that we produce is still expanding, so make sure to check the website regularly. Besides parts formed in a 500 ton press, we also form limited quantities by hand. If you are looking for a sheetmetal part that is not yet produced, feel free to call us and we will see if we can take that part in production.
Last but not least Porsche Restoration Panels has specialised itself in producing light weight alloy parts for your race-Porsche. We have put a lot of money and effort into scanning original parts and making upper and lower steel dies to reproduce them authentically. Again, if you have suggestions for any light weight alloy parts, just let us know.
We hope you enjoy the site.